Recently Facebook-owned WhatsApp changed its privacy policy, which creates a lot of suspense among the users. The change in privacy policy results in the migration of many WhatsApp users to Signal. Due to the change in WhatsApp privacy policy, the Signal app is on the top chart of both the App Store and Play Store. We will show you the steps to move your WhatsApp group to Signal.
However, Signal also faced some technical problems due to a surge in user base. Meanwhile, Signal also responded to the problem. Switching from one to another always creates confusion among the users. Now, many users are asking for moving old WhatsApp groups to Signal. Signal responded to the users on Twitter and posted a few images showing 4 simple steps.
Signal and Telegram Seeing Huge Waves of New Users Amid WhatsApp Privacy Row
Signal on Twitter wrote: "A lot of people have been asking how to move their group chats from other apps to Signal, and Signal group links are a great way to get started. Drop a group link into your former chat app of choice like you're dropping the mic on the way out."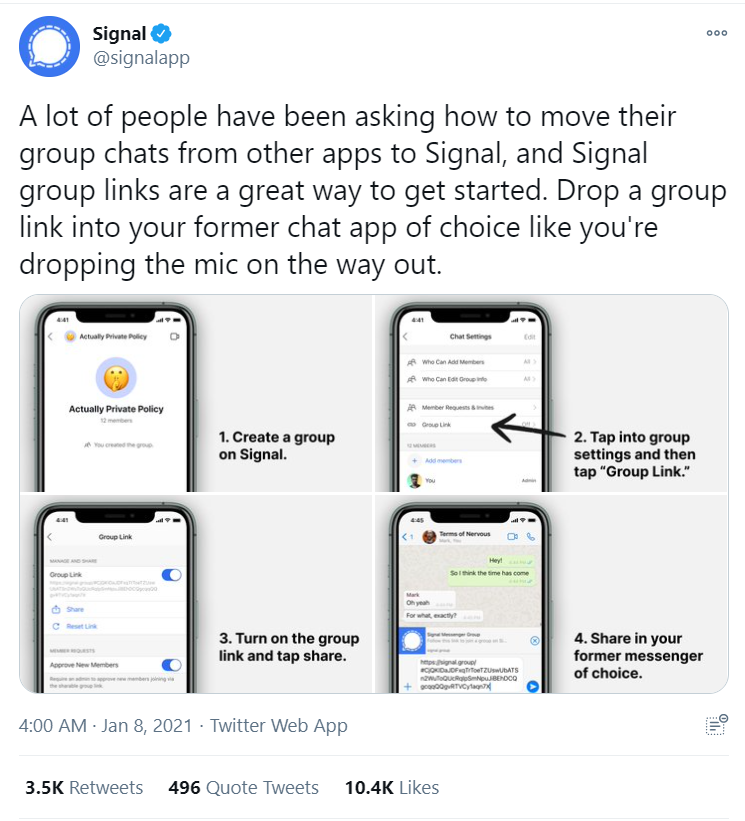 Move your WhatsApp group to signal
Create a group by tapping three dots on the top right corner of the Signal app
Now go to the group settings and tap on the Group link
Turn on the Group link and tap on the share
Finally, share the Group link to the desired WhatsApp group
Anyone can join the group by accessing that link. However, you can disable the link so that no one can join.
Best affiliate programs