Microsoft Windows next feature update Windows 10 2004 (20H1) next feature update is about to release, Microsoft has started its testing in May 2019 and it is about to release in May 2020.
The upcoming Windows 20H1 update will be much larger and will come with a variety of new features. The May update for Windows 10 20H1 has been heavily tested in since December 2019.
But due to the ongoing Coronavirus pandemic, Microsoft has postponed the May update for Windows to a later date. Microsoft has early released the preview bullets for 20H1 update.
The next Windows update for 20H2 is codenamed as "Manganese". It can be identified through the clue from the Windows 10 preview builds. If you try to list out the available Virtual Machine through Powershell window by a command 'Get-VMHostSupportedVersion' with Hyper-V enabled.
However, the company hasn't mentioned when they are releasing 20H2 but we can expect Windows 10 20H2 to arrive around the end of the year 2020 or in early 2021.
It seems that Microsoft has accelerated up the development for Windows 10 20H2 i.e "Manganese" update releasing the fast ring preview builds almost every week.
In the latest update preview build the newly redesigned speaker icon which pops up when clicked on the taskbar and the new menu control option also supports third-party apps such as Spotify.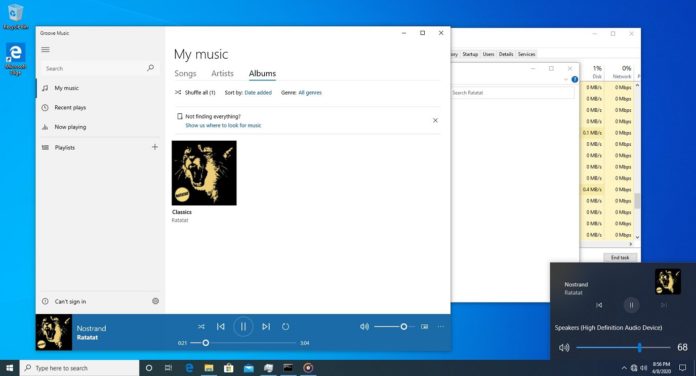 It also features adjust the sound, skips a track, plays, pauses while playing the music. The above screenshot shows the new fluent design.