Removing the background of any video or GIF is not a big issue. Moreover, by using some tools we can do that creative stuff with ease, most importantly social media works. creative videos and stuff are trending nowadays, so every individual is interested in doing and creates some awesome attractive things in this lockdown, for all who need this technique of removing the background of any videos or photos, follow the tools given below.
We have some of the online and offline tools listed below for this work to be done with ease.
1. Unscreen
This is an online tool that can do the work and it would be the most preferred online tool too. This tool asks for the video which should be remastered with some editing's in the background of the video, after uploading the video it asks you the filter, after choosing the required thing it will render the video.
This is a demo video for the UNSCREEN online tool.
2. Slazzer
This is also an online tool, Slazzer is an A.I. powered background removal software that computer vision algorithms to quickly remove the background from an image in just 5 seconds or less. This is free to use online on the go tool.
Sample video of SLAZZER tool.
3. Background Eraser
Background Eraser is one of the best online tools to remove your image background automatically and intelligently. Based on its machine learning and AI technology, it enables you to remove backgrounds with zero clicks and get wonderful results.
4. Removebg
This tool is available to download and its also having an online version to edit the images on the go, tool can support three supporting systems Windows, MACOS, Linux only x64- bit versions.
This is the online page of the removebg tool in this, we can upload an image file manually or by drag and drop process too. In this we have another amazing feature is it can also able to accept the URL of the image for removing the background of the image, this will comes handy however the image file can be edited without even download.
Read Also: Top 10 Hacking Apps For Android
5. VSDC Video Editor

VSDC is a video editing software that has amazing features to edit videos and presentations with amazing features like background remover, merge video file, cut, zoom, effects, audio, and much more. The tool includes a multi-color chroma key to give a professional look to your video.
6. Clickmajic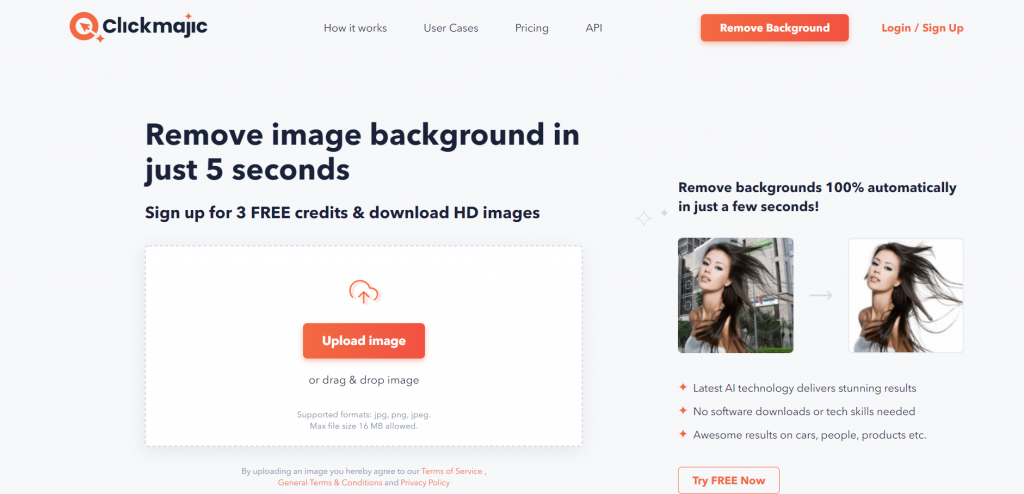 Clickmajic is an online tool that can remove image background in just 5 seconds. The tool uses Artificial intelligence to deliver HD quality images. Not only this, but also the there is no need to download any software to your device. Simply, drag the image on the website and the system will automatically remove the background. You can sign-up to receive 3 free credits with which you can remove background of 3 HD images for absoultely free meanwhile previews are free to download. If you are looking for quality, It is recommended to use this tool.
The above are some of the best background removal tools online and offline, also there are some more offline tools which are also available for free to use.
Some of them are:-
These are some of the other tools which are also able for removing the background of videos and photos, and move the creativity to another level.