Olx is the best option where you can sell and buy second-hand goods, which is usually famous for youngsters and bachelors. But there are lots of scams which happen in Olx nowadays. A person impersonating an officer from the Indian Army scams users selling their goods on Olx. He even sends fake id cards to prove he's from the army.
He calls the seller being interested in buying, for example, a camera which you've posted for say INR 25,000 and says he wants to make an advance payment so the camera doesn't go off his hands. He then sends you a QR code by which he claims you'll receive the payment but instead money gets deducted for your account.
This is being famous right now specifically in this pandemic period. Even Olx has recognized the scam and has taken cognizance with awareness programs.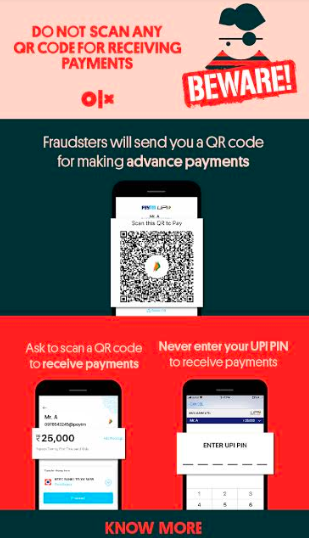 So what Does Actually happens?
The fraudster will create a QR code with a high amount and will share it with you through WhatsApp.
You scan the code and enters the UPI PIN (if asked). Some times it doesn't even ask for UPI PIN.
Money got deducted from your account. You're now scammed.
How to Recognize a Potential Fraud?
They Never Bargain
They claim to be from the Indian Army.
They Send you INR 10 or Similar to check whether it's your account.
They are eager to pay full money in advance.
How to be safe from such scams?
Ask the buyer to meet personally
Ask them to pay by Bank Transfer /UPI ID
Do not Scan any QR code
Try avoiding outside customers
Never provide numbers with your bank account linked to it
Scanning QR codes not only induced scams but may also result in implanting a malware to your device. So it's better not scanning QR codes from people not trusted.