The expense of setting up a new website is too hard with all the resources to manage with, test out, find bugs, customer satisfaction, and also to keep in mind the cost for running a website is too high nowadays. So, we have found out some best web hosting free services and got you covered totally.
Because you are being provided with a free service, the obligations usually attached to a paid subscription no longer exist, and you are usually left to your own risk when things go wrong. None of the free web hosting providers that passed our test could measure up to even the cheapest paid-for service on the market.
Remember the old line you might have heard many times: 'You get what you pay for'? Well, nowhere else in the tech business is this truer than with web hosting.
Note: Our advice would be to steer clear of free web hosting services altogether unless absolutely necessary. The paid versions provide a lot more storage, more security, and its more scalable.
Among a lot of hosting providers, we have selected for you, what we think is the best for you. If you feel some more to be added please send me a tweet: @debasish
1. Infinityfree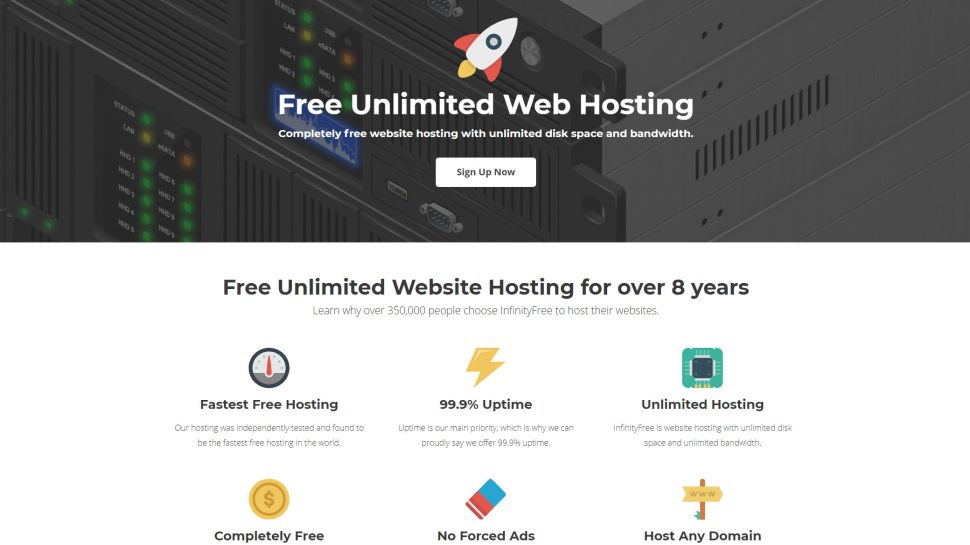 Disk space: Unlimited | Domain hosting: Unlimited | Monthly traffic: Unlimited Bandwidth | Subdomains: Unlimited | Email accounts: 10 | FTP accounts: 1 | MySQL databases: 400
Infinityfree stands out of all the other web hosting services for good reasons. It has a well-designed interface website that makes a positive impression and the overall working of the website is good, just the homepage loading time takes time according to load tests.
Infinityfree has been in business for over six years and it claims to have over 350000 users and provides unlimited disk space and bandwidth(with a daily hit of around 50,000). You can host as many domains as you want but you will get 10 email accounts and one FTP to upload your content. Another surprising thing to note is that this provider's feature list includes 400 MySQL databases free DNS service, free SSL, and free Cloudflare CDN. That's impressive for a free offering.
Infinityfree also sells cheap paid hosting services as well that offers unlimited everything for $6.90 per month, which is worth an upgrade as you will also get access to Cloudflare Railgun, which cuts load times significantly.
2. Byethost
Disk space: 5GB | Domain hosting: 1 | Monthly traffic: Unlimited | Subdomains: 7 | Email accounts: 5 | FTP accounts: 1 | MySQL databases: 5
Byethost is a part of Byet Internet, a US-based provider of hosting, domain name, and reseller services. Byethost claims that its free hosting service is one of the most powerful networks dedicated solely for free hosting to the world, with one million websites hosted as of now.
Users are given 5GB of server space, unlimited monthly bandwidth, and MySQL/PHP compatibility. Users are even benefitted from 24/7 tech support, which is an advantage as well as you can get access to Byethost's community and knowledgebase.
Furthermore, if you want to get a free web hosting provider yourself, Byethost operates a separate entity known as myownfreehost, which allows users to provide web hosting service themselves.
3. Googiehost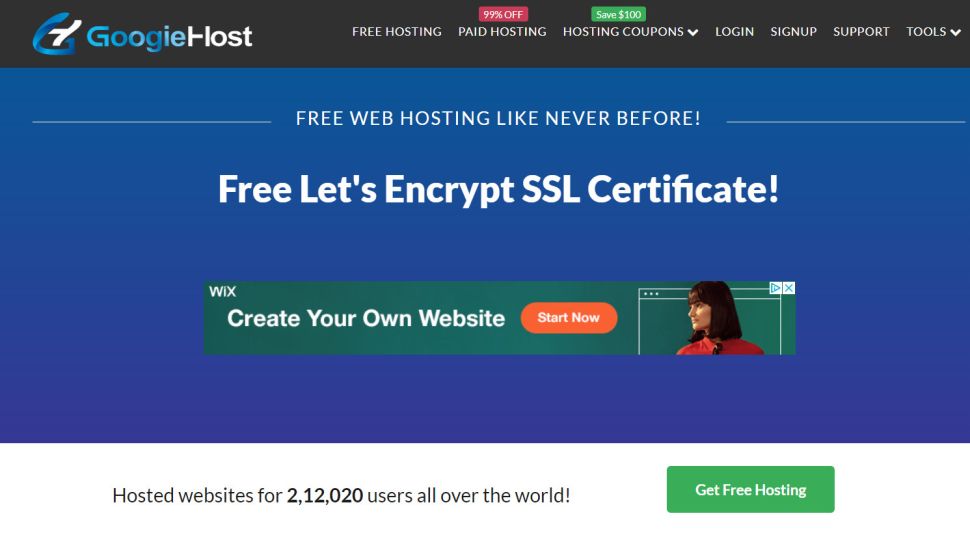 Disk space: 1GB | Domain hosting: 1 | Monthly traffic: 100GB/Unlimited | Subdomains: 2 | Email accounts: 2 | FTP accounts: 2 | MySQL databases: 2
People could easily confuse Googiehost with Googlehost, another way of grabbing the attention of the customers. Googiehost remains not a good option overall.
But it has some features that really grabs your attention. This is the only provider to come with cPanel and Cloudflare, even along with its free form. However, we experienced instances where the connection is not private with popped up messages on the screen and it is identified as "not secure" property in the Chrome browser. Plus it runs a few ads on their page but not on the user's sites.
Note: Users need to provide a reason for the firm to accept your website, a special Recaptcha, and a surprising way to stay out spammers.
4. FreeHostingNoAds
Disk space: 1GB | Domain hosting: 1 | Monthly traffic: 5GB | Subdomains: 3 | Email accounts: 1 | FTP accounts: 1 | MySQL databases: 1
FreeHostingNoAds delivers just what it says: Free web hosting services without any adverts. The brand is run by RunHosting and an established web hosting service provider that provides unlimited disk space and unlimited traffic for as little as $2.39 per month.
An SSL certificate, which will give the users all-important security padlocks in the browsers, will set back an eye-watering $30.The control panel via Zacky tools installer, is extremely limited, with either Grav, WordPress or Joomlabeing offered as one-click installs. You can install your own too, but its limit is only 15 MB.
Creating a new account is very easy and straightforward but the account emails registered directly landed in the spam section, a complete clean sign that some sites hosted by FreeHostingNoAds must be on a deny list.
5. 000Webhost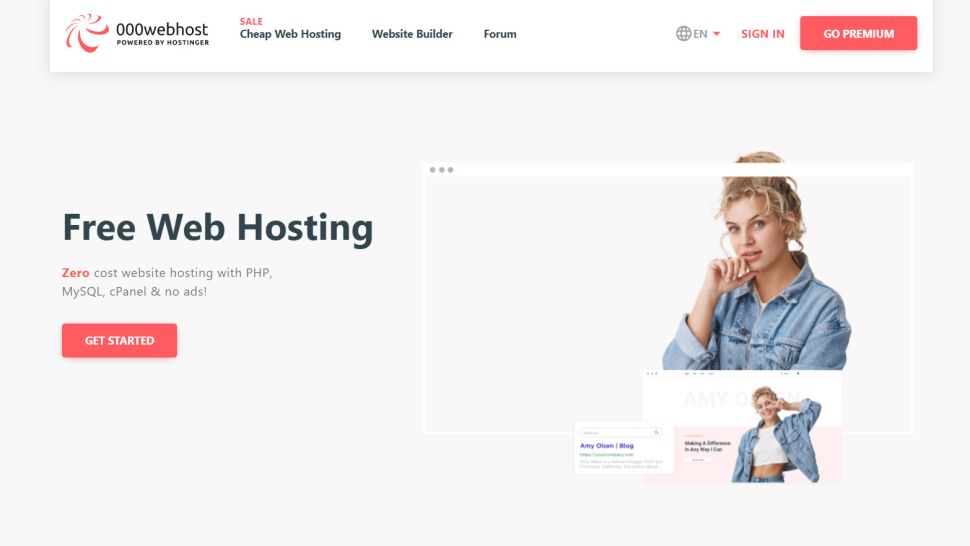 Disk space: 300MB | Domain hosting: 1 | Monthly traffic: 3GB | Subdomains: 0 | Email accounts: 0 | FTP accounts: 1 | MySQL databases: 1
000Webhost is a free website hosting provider owns and operate by Hostinger.000Webhost has a huge volume of users and it has been around ten years, which makes it much more susceptible as a prime target for hackers. In 2015, the provider's entire database was compromised with details of an estimated 13.5 million accounts stolen.
With 000Webhost, you get a cPanel, a website builder, and a WordPress auto-installer, plus a further benefit that there are no ads. However, the bandwidth and the disk space is quite low with 3GB bandwidth and only 300MB disk space. There is no SSL certificate, but with a more surprising note as to the absence of subdomains and email accounts as well as the support via tickets.
Note: You can also create a website on 000webhostapp.com using the same credentials as 000webhost.com
Read More: Fujitsu to Develop Supercomputer For AI Research in Japan