Hey, are you a Gymholic and missing your gym or workouts due to Covid conditions. Might you've started working out at home but the environment is not making up the whole workout vibe. So you're at the right place and right article, We've listed here the Top best 5 android apps which will help you to perform home workouts and will create a vibe so you won't miss your gym anymore.
1. Home Workout – No Equipment By Leap Fitness Group
The first in our list is the Home Workout – No Equipment By Leap Fitness Group this is the best app so far for all kinds of workout based on your health goals.
Home Workouts given in the app provides daily workout routines for all your main muscle groups. In just a few minutes a day, you can build muscles and keep fitness at home without going to the gym. No equipment or coach needed, all exercises can be performed with just your body weight. Includes both the warm-up and body stretches. Excellently shown with animation and video guidance. Also, there are several other fitness-related apps by leap Fitness group, do check them out.
Features :
a) Warm-up and stretching routines
b) Records training progress automatically
c) The chart tracks your weight trends
d) Customize your workout reminders
e) Detailed video and animation guides
f) Lose weight with a personal trainer
g) Share with your friends on social media
2. Cure.fit Fitness, Meditation, Healthy food, Doctor
It is a health and fitness powerhouse that takes a holistic approach to physical and mental well being. The app make group workouts fun, daily food healthy & tasty, mental fitness easy with yoga & meditation, and medical & lifestyle care hassle-free.
They own the cult.fit which is the India's largest chain of fitness centres.
They provide eat.fit that brings home healthy, tasty, fresh meals for daily consumption. From Breakfast & Snacks to Lunch & Dinner, they've got your daily food cravings sorted with fresh food and quick delivery.
They provide other benefits that are mind.fit and care.fit which focuses on user mental health and provides a guided meditation session and personal doctor. With on-time consultations and you can consult the best of General Physicians, Paediatricians, Physiotherapists, Orthopaedics, and Medical and Lifestyle Coaches for your daily health care.
3. HealthifyMe Calorie Counter, Diet Plan, Dietitians, Trainers
The HealthifyMe app is free to download and use. It includes Premium plans along with personal coaching which is recommended for users looking to see better results in weight loss, building muscles, toning up, or controlling medical conditions. They provide personalized diet and fitness plans which are designed to deliver faster results in a healthy way.
The Immunity tab in-app provides you powerful tools like immunity checker – IRA (Immunity Risk Assessment), easy at-home workouts designed by fitness coaches, advice on immunity-boosting foods for kids & family by diet coaches.
4. Thenx
Thenx is one of the best apps to learn the secret techniques and knowledge of bodyweight training. The workout programs in Thenx have been tested and developed over many years by professional instructors and athletes to provide the most direct and simplistic format to excel in calisthenics fitness and ability.
The workouts are designed in a short video format with the purpose to convey the techniques and exercises at your own pace, ensuring proper form to be easily repeated, personalizing your workout experience.
5. FITTR: Workouts, fitness coach, weight loss plans
Fittr is a community-based health & fitness app with everything you need to start your transformation journey. Fat loss, weight loss, muscle gain, or body transformation. Having over 200+expert coaches.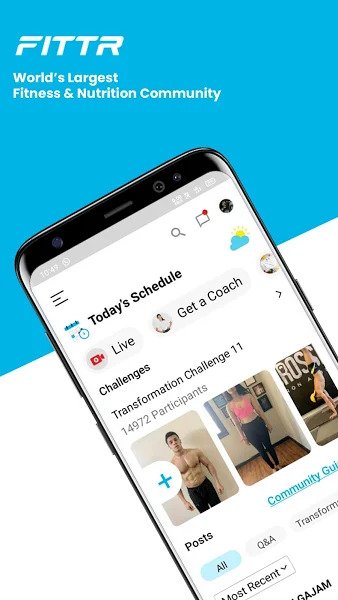 Features of the app includes :
Personal training
Fittr live Free home workout sessions covering strength, bodyweight exercises, yoga, and interactive sessions.
Healthy recipe suggestions
fitness challenges
track your progress
These 5 Apps will surely help you achieve your health goals at your home. Do check them all.
Read Also: Top 5 Smartwatches Under 10K