Nowadays with a rapid boom into the digital world, every industry including new startup or a big MNC, education institute or government organisation everyone is shifting towards the digital world. All the data are stored digitally which makes it easy to get hacked by someone or having a data leak which is increasing the demand for skilled cybersecurity professionals to keep their data safe and making the scope of cybersecurity on the peak.
Scope of Cyber Security
"According to Cyber Security Ventures, cybercrime will more than triple the number of job openings to 3.5 million unfilled cybersecurity positions by 2021, and the cybersecurity unemployment rate will remain at zero percent," Rahul Tyagi said in an interview with Indiatoday.
Since every other organisation is shifting towards the digital world the need of the cybersecurity expert is increasing and when it comes for the cybersecurity no other artificial intelligence or computer program setup can replace the expertise of a human.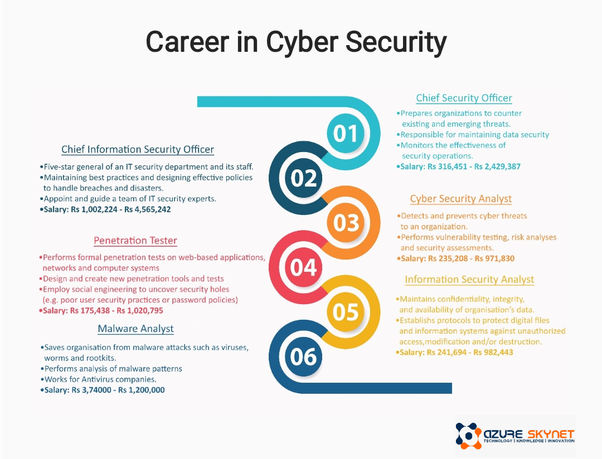 According to experts, the scope of cybersecurity will be $170 billion industry by 2020 and talking about the salary of a cybersecurity expert it can go as high as $304,500 and as low as $40,500 in the U.S and in India, a fresher could grab a starting package from 7 lacs and experts can range of 20-24 lacs.
Skills required
Although becoming a cybersecurity expert is not easy, he/she should know about almost all Operating Systems and have some of the skillsets which most of the companies are looking for :
Python
Linux
Network Security
Cryptography
Education or experience required
To enter into the field of cybersecurity one must be having a bachelor's degree in Computer Science and have some skills in some of the most popular languages such as Python or shell, Java, PHP, Assembly, Ruby, Go etc.
Some of the organisations also want Certifications for hiring as a cybersecurity professional. Some of the famous certifications are :
Certified Ethical Hacker- CEH
Offensive Security Certified Professional- OSCP
Certified Information Security Auditor – CISA
Certified Information System Security Professional – CISSP
Certified Information Security Managers – CISM
Cisco Certified Network Associate – CCNA
Also, a cybersecurity expert must have some of the soft skills which industries are demanding
Analytical Skills
Team Leading Skills
Communicative
Learning Spirit