With the internet being inexpensive and the rise of online content consumption, a great part of the Indian audience is in search of extra entertainment through the Medium of Online streaming services. Today we will rank the top 5 streaming platforms available in India.
There are over 40 OTT(Over the top) platforms in India. This pretty much is a confusing aspect of the selection of them. Each one of them has its pros and cons. There are International providers like Netflix, Amazon, and Mubi, with some local and regional providers like Voot, SonyLiv, HoiChoi, and others. Too Many Choices with different benefits. We will discuss them all in the article, so read on. We have listed the top 5 of them, but they are not to be necessarily ranked that way.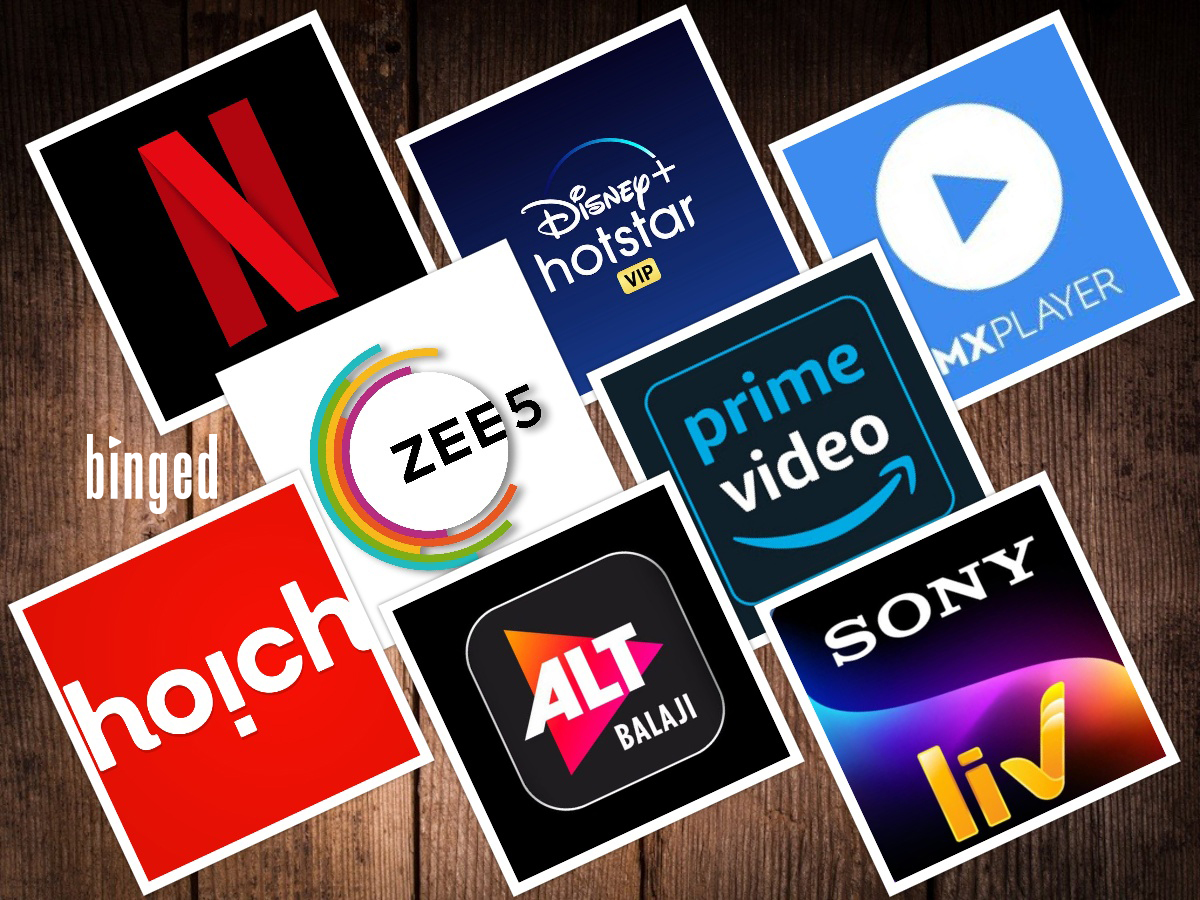 1. Netflix
Netflix is an American Platform with a really large library to watch from. They have their Exclusive Shows as well as Movies. Some Indian Hits that are exclusive to Netflix are Sacred Games, Indian Matchmaking, and others. Netflix is a bit pricey but the quality and quantity of the shows on the Platform compensate for it.
Netflix offers a mobile plan and 3 standard plans. The Mobile plan costs ₹199/month and provides access to one screen and a maximum resolution of 480p. The other 3 plans are priced at ₹499, ₹649, and ₹799 per month each allowing you access to 1,2 and 4 screens respectively. The maximum resolutions are capped at 480p, 1080p, and 4k+HDR for each of the plans. The mobile plan cannot be used on your laptop or android TV.
Netflix is most user's first choice for an online streaming platform even if it costs due to its rich quality content. It is especially recommended for people who like to binge-watch shows as the shows are released with all episodes at once.
Check about the plans in more detail Here.
2. Disney+ Hotstar – Exclusive Platform for Dream11 IPL
Disney+ Hotstar is an Indian Platform that serves Indian as well as international content. It is one of the biggest platforms in the world, considering it is the official medium through which you can watch the Dream11 IPL. The subscription price is also relatively cheaper. The subscription also provides access to Disney Content like kids shows, movies, and documentaries.
Subscriptions for Disney+ Hotstar are of 2 types, namely, VIP and Premium. The VIP subscription is priced at ₹399 for a whole year. You get benefits like access to Live Sports, Hotstar Exclusive content like Movies and Shows, Disney+ Shows, Movies & Kids content, although it is dubbed and not available in English. Also, Star Serials (Daily Soaps) are released before they are broadcasted on TV. Overall, It is a really good deal considering the price and content offered. The Premium plan additionally offers access to non dubbed Disney+ Content and access to Latest American Shows and movies minutes after they are released in the US. It is priced at ₹299/month or ₹1499 for an annual subscription.
3. Amazon Prime Videos
Amazon's Prime Video is the Company's OTT platform where you get access to international as well as Local Content like Mirzapur among others. It is available as a whole bundle with High-Quality music, and Shipping Benefits for the Amazon shopping website. With a simultaneous watching limit of 3 screens at once, it is also cheap compared to Netflix with a monthly subscription price of ₹129 or ₹999 for a year.
Most People like to subscribe to Prime Videos for the additional benefits it offers other than being an online streaming platform.
Checkout Amazon Prime Videos Here
4. SonyLiv – Online Streaming Platform to watch UEFA Champions League
SonyLiv is Sony's Video on Demand Service which serves content mainly for India. Especially, the UEFA Champions league is being broadcasted on SonyLiv. With many shows and movies like JL50, Scam 1992, and SonyTV & SabTV shows, it is as great a choice for football fans as Hotstar is for Cricket lovers. Events like KBC play along are a great source of entertainment and to win cash prizes and more. Internation Content is also available on SonyLiv. Some of the Content is free to be consumed.
SonyLiv has 3 different subscriptions with incremental benefits. The base plan is Liv Special, priced at ₹199 for a year. Benefits of the plan include Live TV shows at the same time as they are broadcasted, episodes of shows are downloadable, Live Preview of Sports up to 10 minutes. Live Sports is not available in the plan. The next Plan is Liv Special+ which includes all benefits of the Liv Special subscription and additionally, no ads are served except in live tv, games, and sports previews. This Plan costs ₹399 for a year.
The Highest Tier plan is the Liv Premium plan which includes all benefits from Liv Special+ and additional benefits which are access to Liv Premium Content, all Live TV Shows, and Channels. Also, you get served International content and no ads except in KBC play along and in Live TV. It Costs ₹299 for a month or ₹699 for 6 months or ₹999 for a year full of subscription.
Check SonyLiv's Premium, Liv Special+ and Liv Special plan here.
Read Also: Top 5 Laptops Under 60k – October 2020
5. Voot
Voot is Viacom 18's online VOD service. The OTT platform features some of the most rated Indian Shows like Asur. It is mainly sought after because of "Big Boss" for which they have a 24-hour live channel. The subscription dub as Voot Select provides benefits like ad-free viewing, 45+ live tv channels, and release of shows before 24 hrs than they broadcast on live TV.
Voot Select is ₹99 per month or ₹499 for a year. Learn more about it here.
To conclude, You have a lot of choices but you should choose only what you want as they all have their benefits and disadvantages. You can always perform trial and error to and find what you like. If you are into online shopping then Amazon's Prime Videos is your best choice. There are also other OTT platforms like MX Player Online, AltBalaji, and ErosNow.
affiliated programs