Samsung's new Tab series, the S8 series details got leaked. This information is provided by the South Korean site, Naver.com. This website revealed that we will be able to see three different tablets in the Tab S8 series. The three tablets namely, Samsung Galaxy Tab S8, Galaxy Tab S8+, and Galaxy S8 Ultra. Currently, these tablets are codenamed Basquiat 1, Basquiat 2 , and Basquiat 3. These names sound strange but these tablets have amazing specifications.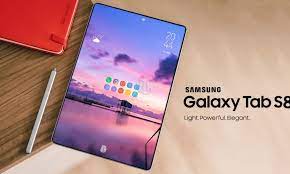 The cameras on all three flagships are the same. All three tablets have a dual-camera setup with a 13 MP primary camera and a 5 MP secondary camera. The rear also has a flash which is absent in most tablets. Other similar specifications include quad speakers and S pen support in all the models. The S8 Ultra catches our attention as it has the most promising specs we can imagine for a tab. The S8 Ultra has a massive 14.6-inch OLED panel and 120Hz refresh rate which is amazing. The display also has an under-display fingerprint sensor for physical security. Clearly, this tablet will replace most of the laptops thanks to its amazing specifications. This tablet houses a massive 12,000 mAh battery which also supports 45W fast charging. These tablets might come in LTE and 5G variants.
On the other hand Tab, S8+ has a 12.4 inch OLED display. This display also features an under-display fingerprint sensor for physical security. This tablet has an 8 MP selfie camera. Probably it might be located with the bezels or we might see a punch-hole camera style. This tablet has a 10,090 mAh battery. Like the S8 Ultra, the S8+ also supports 45W fast charging.
However, the Tab S8 doesn't have such amazing specs as its higher variants in the same series. It has an 11 inch LTPS TFT display with a 120Hz refresh rate. This is also packed with an 8000 mAh monster battery that also supports 45W fast charging.