Samsung Recently trademarked its new concept phone which is still under development, Samsung Z Slide. Previously the smartphone manufacturing giant also trademarked the "Z Roll" which is also under development. The point that we are so much confident with the Z Slide is because it was trademarked by EUIPO. EUIPO stands for European Intellectual Property Office. From the leaked information we can speculate that the smartphone has a triple camera setup. The arrangement of these cameras is similar to Samsung's S21 series. As this is a sliding phone, the mere disadvantage over here is the display. This disadvantage of displays is seen in all the foldable devices. These types of smartphones have a moving display. For this reason, manufacturers opt for plastic screens to protect the sensitive AMOLED panel. This increases the chances of damaging the screen and makes the screen prone to more scratches.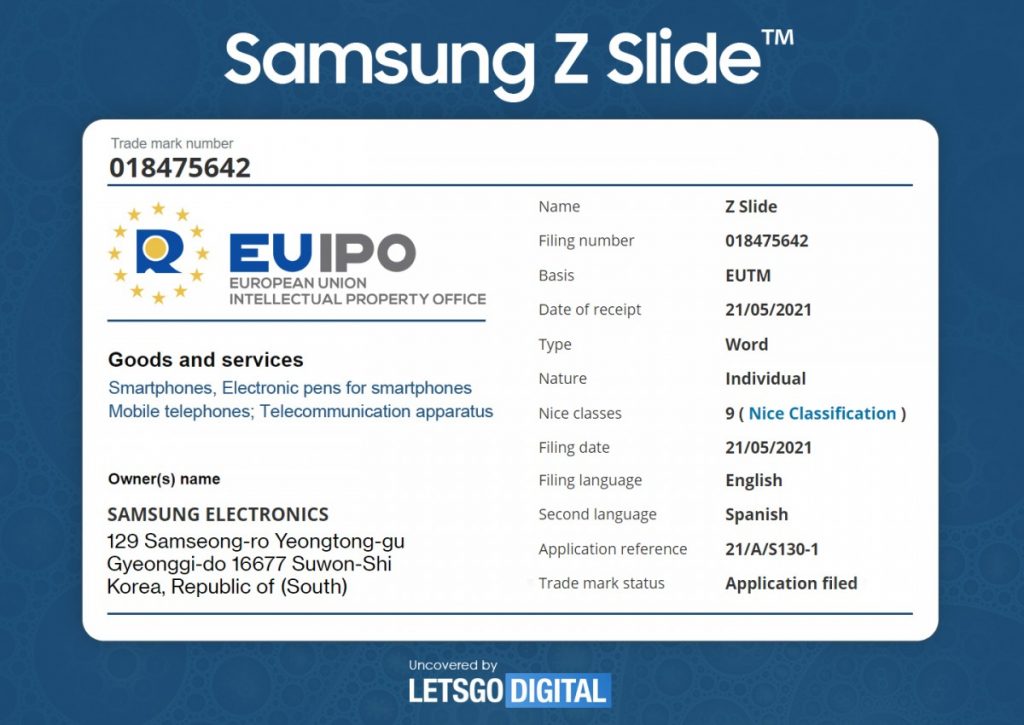 You might be wondering, what on earth does a smartphone has to do with the term slide. Let us understand it in a simple way. You might be familiar with the working of pop-up selfie cameras. If you are not familiar let us understand how this mechanism is related to our Z Slide smartphone. A camera module is connected to a motor mechanism and fixed into the body of the smartphone. Whenever the user activates the selfie camera, the motor starts spinning and pushes the camera up, out of the smartphone body. The same way the Slide Smartphone should work. You might also wonder, what about the screen? How will it function in such a complex mechanism?. The answer is quite simple. For displays of folding, rolling or sliding smartphones manufacturers use flexible AMOLED panels. The advantage of flexible display panels is that they can resist bending.
It will be very interesting to see this smartphone as it the first of its kind. The Z Slide is expected to be launched sometime in 2022. However this year we might witness multiple launches of Samsung's foldable smartphones.