Samsung galaxy Z series is focused on foldable smartphones. As seen in earlier models Samsung has improved a lot of features in Samsung Z flip 2 as compared to Samsung Z Flip. Now there are several leaks regarding the new concept and design of the Z flip 3. Let's check out the leaked specifications.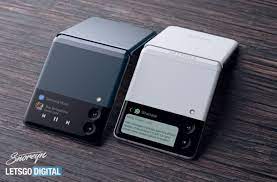 The leaked images show that the smartphone flips into half like the Samsung Galaxy Z Flip smartphone. The rear of the phone is expected to be made up of Corning Gorilla Glass Victus. It might have a dual-camera setup that is arranged vertically at the topmost of the top rear panel. Also, the dual cameras might be accompanied by a small screen beside the cameras. It is basically similar to the setup of cameras and secondary screens as seen in Mi 11 Ultra.
The Z flip 3 might be accompanied by the latest processor, Qualcomm Snapdragon 888 5G. Base variant of this phone is expected to have 12 GB of ram and there might be two storage options 256 GB and 512 GB. The display is expected to be Super AMOLED. The display is protected by a plastic screen because this is a foldable phone. It is a great disadvantage and we hope Samsung solves this problem and uses Glass to protect their displays. The front also has a 10 MP in-display hole-punch selfie camera and an in-display fingerprint scanner. This model seems a lot more durable than its predecessors as it has greater structural integrity as seen in the leaked images. This device also supports S Pen. The device has a dual-tone color. The camera housing and the secondary screen have a black finish.
One more interesting thing, this time the Samsung labelling on the rear panel is on the hinge which looks amazing. It is available in multiple color.