Spotify is finally now launching a new feature that will like a boon for many peeps who can get their songs to play according to their moods. Spotify had recently patents eerie a 'mood detecting tech to recommend you songs according to your mood.
This feature will also analyze your surrounding environment based on all this data it will recommend using a list of a specific genre of songs. That's really COOL!
EERIE the mood detecting tech which has been patented by streaming giant Spotify analyzes speech and background noise to suggest new content based on your "emotional state, gender, age, or accent". Now, according to details published in a new US Spotify patent, the company wants to use technology to get even deeper into its users' heads, by using speech recognition to determine their "emotional state, gender, age, or accent" – attributes that can then be used to recommend content.
Read also:- Spotify is Testing Stories For Playlists
HOW THE MOOD DETECTION AND SONG RECOMMENDATION WORKS:
A system, method, and computer product are provided for processing audio signals. An audio signal of a voice and background noise is input, and speech recognition is performed to retrieve the speech content of the voice. There is the retrieval of content metadata corresponding to the speech content, and environmental metadata corresponding to the background noise. There is a determination of preferences for media content corresponding to the content metadata and the environmental metadata, and an output is provided corresponding to the preferences.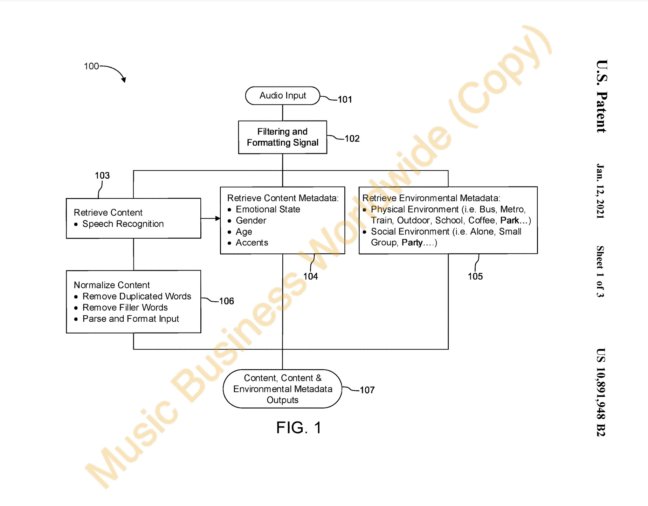 This Spotify patent entitled "Identification of taste attributes from an audio signal" was filed in February 2018 granted on January 12. Which was first spotted by Music Business Worldwide. Click here to read more about Spotify's patent.
The system uses "intonation, stress, rhythm" to infer your mood, "a combination of vocal tract length and pitch" to estimate your age, and environmental metadata to detect whether you're alone or in a group.
"A MORE BASIC APPROACH MIGHT SIMPLY CATEGORIZE EMOTION INTO HAPPY, ANGRY, AFRAID, SAD OR NEUTRAL… PROSAIC INFORMATION (E.G. INTONATION, STRESS, RHYTHM, AND THE LIKE OF UNITS OF SPEECH). Which CAN BE COMBINED AND INTEGRATED WITH ACOUSTIC INFORMATION WITHIN A HIDDEN MARKOV MODEL ARCHITECTURE, WHICH ALLOWS ONE TO MAKE OBSERVATIONS AT A RATE APPROPRIATE FOR THE PHENOMENA TO BE MODELED." – SPOTIFY PATENT
Many studies, research, and projects have been implementing AI (Artificial intelligence to ensure full user satisfaction.
If you're a tech nerd you can check how your mood can be detected by using Spotify data.
This new feature of Spotify might disturb you Lil bit because, what if the user's mood is sad based on the algorithm he will be recommended sad songs, rather than happy songs which can make him/her delightful. Also, the age factor matters, like if the user is somewhat 40-50 age he might like new hip-hop, rap songs but surely according to the algorithm, he will get recommended Pankaj Udhas ghazals.
This feature will surely offer a glimpse into the future of music recommendations.