Since the release of WhatsApp Desktop, it has undergone a lot of improvements. And now, the most requested feature could soon roll out. You might soon be able to make video and voice calls using the WhatsApp desktop app. Some new features are spotted by Alex Hern.
Alex Hern Technology Editor at the Guardian shared a screenshot on Twitter. The image was a screenshot of the WhatsApp Desktop beta app. The screenshot was of two new call buttons, video and voice calling. Both the video calling and voice calling options have "beta" tags on them, which confirms the testing of the beta app. Currently, there is only a search button in every chat.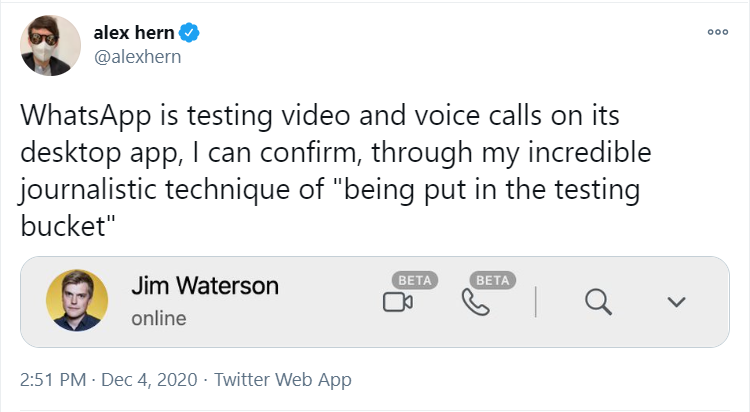 Also in October, the WABetaInfo WhatsApp tracker spotted the same features in WhatsApp Web. According to the report, while receiving a call from WhatsApp Web, a window will be presented where you can accept or decline the incoming call. The report also suggests that WhatsApp will add these features in the next few weeks.
Interesting Story: Laser-Based Hacking from Afar Goes Beyond Amazon Alexa
However, there is no official confirmation from WhatsApp. If WhatsApp will add these features to WhatsApp Desktop, then it would be quite easy for people to use WhatsApp Desktop.