Microsoft is creating a new security chip for Windows PC – Microsoft Pluton processor to protect future Windows PC. The new Microsoft Pluton security chip will be built directly inside the future CPU and will replace the existing Trusted Platform Module (TPM) chips.
TPM is a hardware component used to help securely store keys and measurements which verify the integrity of the system but nowadays attackers are using new and innovative attacks to target the communication between CPU and TPM.
The new Microsoft Pluton processor security chip design removes the communication channel to be attacked by building security directly into the CPU.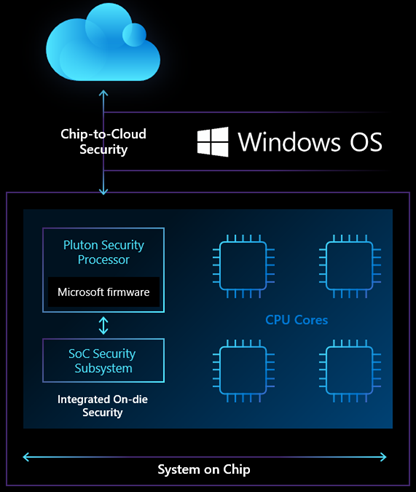 The Pluton security chip is an evolved version of TPM chips, with faster speed, directly fitted inside the CPU, more powerful, and consistent. Pluton security chips store sensitive data such as encryption keys securely which isolates from the rest of the system.
The new security chip for Windows will provide next-generation hardware protection to Windows PC through AMD, Intel, and Qualcomm Technologies.
We design and build our products with security in mind and bringing Microsoft's Pluton technology to the chip level will enhance the already strong security capabilities of our processors.

Jason Thomas, head of product security, AMD
The new Microsoft security chips will update from the cloud. Pluton security chip is based on the same technology that is used in Xbox one to run pirated games the same will be with Pluton chips in future CPUs. Just like you cannot hack XBOX to run