PayPal is an online platform, through which we can make payments or receive payments, be it for Shopping, or any other transactions. Especially in 2020 where everyone is facing through this unexpected pandemic and trying to maintain social distance. PayPal might become very handy for every individual in order to make contactless transactions. Today, I will be giving a tutorial on how to set up a PayPal account.
Before that, I would like to talk about how PayPal works. When you create your PayPal account, You will have to link your PayPal account with your bank account which can be easily done with the help of your credit or debit card.
Now, how convenient is using PayPal? Well think I have to make a Payment to a Person X, usually what I will do is go out to an ATM and transfer it to his account, and in order to get the hands-on cash the other person also has to go to ATM and withdraw it. Now using PayPal, it will help you and the other person be safe in the house, especially during this pandemic in 2020. The only thing required will be the other person's PayPal Id. I will require just to enter the ID and the amount to be paid that is all. And the Same goes for Shopping as well, Payment becomes much more convenient. Maintaining social Distancing, Contactless payment, and your work will also be done. See how convenient things become.
Now, let us start learning how to create a PayPal account.
The first thing which you need for signing up for your PayPal Account is Name, Address, Pan Card, a bank account, and a Credit/ Debit card. Which of course you will have it since you are reading this post. Then you will need to visit PayPal's Official Website. And Signing up is absolutely free.
In order to sign up
Step 1: Hit the Sign Up for free Button.
Then the following page appears:
Here you have to choose between individual account or business account. I will suggest you, go for the business account because with the business account as you can easily make as well as receive payments, and you do not have to worry anything regarding GST.
Step 2: After selecting the Business account, hit the next button,
Now, you will need to select the above options, like monthly income, preferences according to your convenience, and then hit the next button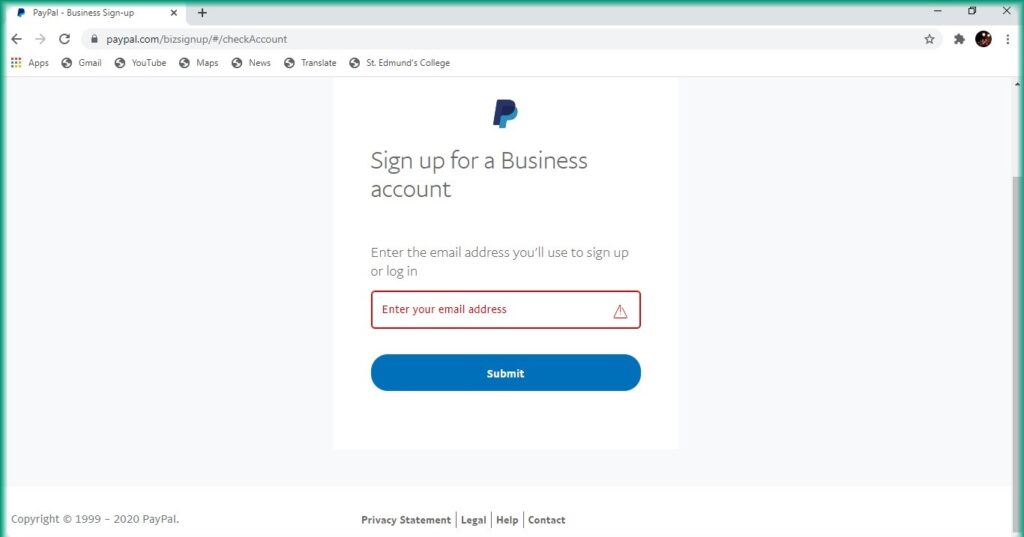 Here you will need to enter your email address, after you entered your email address and click Submit you would need to set a password. then the next step would be to describe your business from the given options there. but I suggest you to go for an individual.
Read Also: Top 5 Upcoming Smartphones in October 2020
Then accordingly you can choose your purpose or you can choose my options given above as well, and enter your personal PAN number. and then for the next CC statement name you can simply type out your name or your company's name. then you can enter your business website if you have one else you can simply click on submit.
Then the next Page will ask you for general details like name, number, dob, address, etc.. I am sure you can do that yourself. After filling all the required details make sure your currency is still INR. And then click on I agree, continue.
That all, your business account is ready, now you would need to confirm your email ID. For that, you would need to go to your Gmail and confirm the email that you received from PayPal.
Now, the next thing to be done is linking your bank account. That is not too much of a burden the only thing to be done is enter the IFSC code, account number, then whether your bank account is personal or business, and then hit the Link your Bank button. Later you can enter your card details and that is all.