In a research paper published by cybersecurity, the researcher described a novel method of recovering conversations and audio recordings by observing vibrations in a light bulb.
It might be very difficult to believe but it is possible that an attacker can listen to the conversation by observing the vibrations in a light bulb.
The research paper published by Ben Nassi, Yaron Pirutin, Adi Shamir, Yuval Elovici, and Boris Zadov the long-distance technique of eavesdropping is dubbed as "Lamphone".
The technique works on the principle that when a soundwave hit the surface of any object it vibrates. This technique can be applied by eavesdroppers to recover full sound from a victim's room that contains an overhead hanging bulb.
Working Of Lamphone Attack
The approach of Lamphone is detecting the vibration of the sound wave when the sound wave hits the surface and measuring the changes in the bulb's output and reverse engineer the sound wave that hits the surface of the bulb.
We assume a victim located inside a room/office that contains a hanging light bulb

The researchers said
To complete setup consists of a telescope for a close-up look into the victim's room that contains a bulb at the overhead and an electro-optical sensor to record light variations in the light bulb, an analog-to-digital converter that converts the output into digital signals and a laptop to process the data and recover the signals into a sound wave.
The researchers were successfully able to recover both human and background sound from the room. The researchers were successfully able to recover the sound wave from 25 meters (82 feet) away.
We analyze a hanging bulb's response to sound via an electro-optical sensor and learn how to isolate the audio signal from the optical signal. Based on our analysis, we develop an algorithm to recover sound from the optical measurements obtained from the vibrations of a light bulb and captured by the electro-optical sensor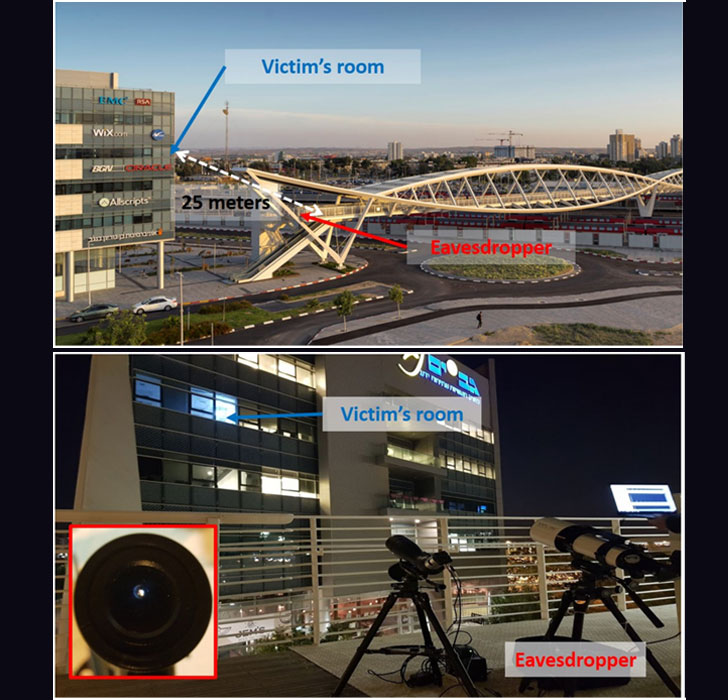 Disadvantages of Lamphone Attack
Conversations need to be loud enough to generate vibrations
Speaker must be near to the bulb
Doesn't work against all types of light bulbs
Depends on the model, and technical characteristics, such as its outer glass thickness or light emission capability.