Yesterday, Twitter rolled out the Fleets feature in India. Not only this, but Twitter is also seen to work on two more features, these are to read articles from the tweeted links and Emoji reactions on the tweets. These changes are the result of the competitive edge Instagram is creating. These efforts may result in the Instagram takeover. Let's know more about these features.
1. Twitter Fleets: A copycat version of stories on Instagram
After testing Fleets in Brazil, Italy, Now Twitter has rolled out the Fleets in India yesterday. Fleets on Twitter is a lookalike version of Stories on Instagram. Users can post their content on their profiles that will disappear in 24 hours. Users can share texts, GIFs, photos, and videos on Fleets. The Fleets doesn't allow like, replies, and retweets. Meanwhile, Fleets can be replied privately in DMs and supports emojis reactions.
Fleets will not be available in Twitter's public feed. It is a must that you need to go to the user's profile to see their content. It also cannot be embedded on any other website. Next Fleet can be checked by down swipe instead of right swipe in case of Instagram stories.
Fleets are available for iOS users in India and it will soon be available for Android users in the coming update. Twitter is getting trolled for this new feature as people are comparing this feature with Snapchat and Instagram Stories.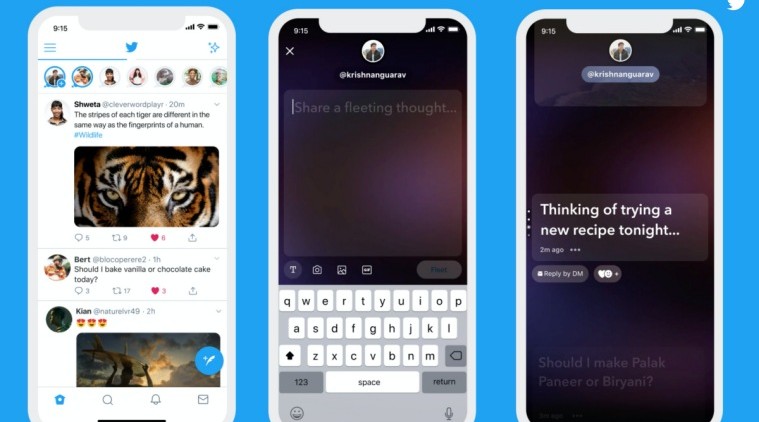 How to create a Fleet?
Tap your profile image to create a Fleet.
Add your content. It can be text, photo, video, and GIF.
Tap the Fleet button at the bottom right and Boom, it's done!
2. Read Articles Before Sharing
Reports are coming that Twitter is working on the "Read Article" feature. The new feature pop-out a Read Article button to users before tweeting or re-tweeting it. Initially, Twitter is testing this feature on Android users. The prime purpose of the feature is to stop banters.
An interesting thing is many people re-tweets before opening an article just by reading the headings. As per Twitter, Headlines don't tell the whole story. This feature will stop fake news and engage people in conversations and discussions.
This feature changes the way people look at the article before sharing. This feature intends to make the platform a place for sensible discussions and also curb fake news.

Kayvon Baykpour, Twitter product lead
3. Emoji Tweet Reactions
Twitter is also experimenting with the reaction feature. This feature will allow users to react emojis on a tweet. According to researcher Jane Manchun Wong, every tweet will now have an emoji reaction option in which Perfect 100, Shocked, Laughter crying, and other emojis are available.
As Twitter has added Emoji's reaction to the Fleet feature, it can be expected that the reaction feature to tweets will soon be available.
Conclusion:
In the last few months, Twitter has added feature in which a user can turn off replies to their tweets. These features are for user convenience and more filtration. Now, Fleets, Reactions, and Read Articles feature will change the way people use Twitter.