The social media giant Twitter is no longer allowing their user's to hide private data such as a phone's unique tracking identifier from advertisers at the same time the U.S. government is also tracking advertisers' data to track COVID-19.
The above statement creates so many doubts in our minds. Is all this is a huge coincidence?
On Wednesday when the users tried to login into their accounts a pop-up comes informing those outside Europe will no longer be able to disable "mobile app advertising measurements" sharing tab.
Last month Twitter informed their users that content not violating the policy might get removed because Coronavirus has forced content moderator teams to take off work from home due to safety reasons.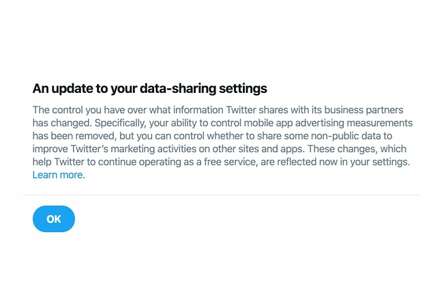 Twitter said that the new setting always on "share data" is to reassure the advertisers that the users are watching the ads. But the interesting comes here is that government is taking the advertiser's location data supposed to track the spread of Coronavirus.
Our advertisers' ability to effectively target their advertising to our audience's interests may be impacted by the degree to which people on Twitter agree in our settings to certain types of personalization or ad targeting, which could have an impact on our revenue.
The advertisers are getting the benefit of "always-on" share setting but, Government of the U.S is taking the location data of users to track the spread of Coronavirus pandemic.
But according to the Wall Street Journal, the government could use the information for their own use like in some kind of surveillance projects.
In Past also the users found that government are spying on their users, Twitter would rather just leave the back door through their advertisers and let the government take the users information whatever they want without getting directly involved.
This type of one such incident was shared by former NSA contractor Edward Snowden released the document of PRISM project in 2013 which claims that Twitter is sharing users private data to government as well as private corporate clients.