It's an unquestionable fact that Emotet trojan is today's top malware warning. Emotet's codebase is very complexed and it continues evolving constantly to fool the users to click on malicious links.
For example, in September last year, Emotet started a spam run that addressed recipients by name and requested past emails they had sent or received. This enabled the spam threat to develop widely.
However, in a blog post published last week, security researchers at BinaryDefense discovered an Emotet module that under special conditions can take the WiFi gap to nearby networks.
The new Emotet "WiFi spreader" module relies on users using weak passwords for their WiFi networks, but, it prepares for new attack vector inside infected companies and also identifies all nearby WiFi networks.
If your neighbors infected with Emotet and you're using an insecure password for your WiFi then there could be a chance you could affect Emotet trojan from your neighbor. According to BinaryDefense, The WiFi spreader doesn't work on Windows XP SP2 and Windows XP SP3, primarily due to the module using some new functions. Banks being targeted with a major malware campaign. Coronavirus malware infects thousands of devices worldwide united Nations hit by a major phishing attack.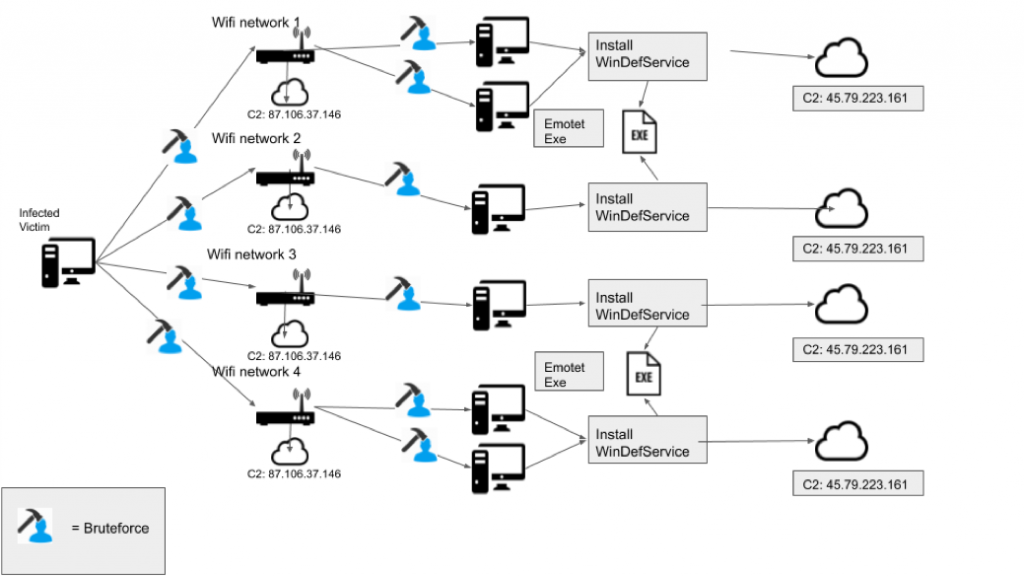 "Worm.exe is the main executable used for spreading. The executable with this timestamp contained a hard-coded IP address of a Command and Control (C2) server that was used by Emotet. This suggests that the function of Wi-Fi spreading behavior has been operating unnoticed for almost two years."The main reason for unnoticed is due to how rarely the binary is dropped. To prevent Emotet trojan companies or individual take to take additional precautions using a strong password and also check out the best antivirus software.