The Indian Space Research Organization is working hard to put Human astronauts into space. ISRO will send humans into space in its Gangayaan Mission that is planned for December 2022, but today itself ISRO unveils a legless female humanoid robot.
The half-humanoid is named as Vyommitra. It is due to the fact that Vyom means space and Mitra means Friend. So, the Vyommitra is basically a friend in space. ISRO is planning to send the robot on an Unmanned mission.
The Lady-Robo was introduced today at the symposium on human space flight in Bengaluru by ISRO Chairman K. Sivan and Principal Scientific Adviser K. VijayRaghavan. The event is basically presented at ISRO's Human Spaceflight and Exploration — Present Challenges and Future Trends event.
Hello everyone. I am Vyommitra, the prototype of the half-humanoid, been made for the first unmanned Gaganyaan mission. I can monitor through module parameters, alert you and perform life support operations. I can perform activities like switch panel operation. I can be your companion and converse with the astronauts, recognize them and also respond to their queries

Vyommitra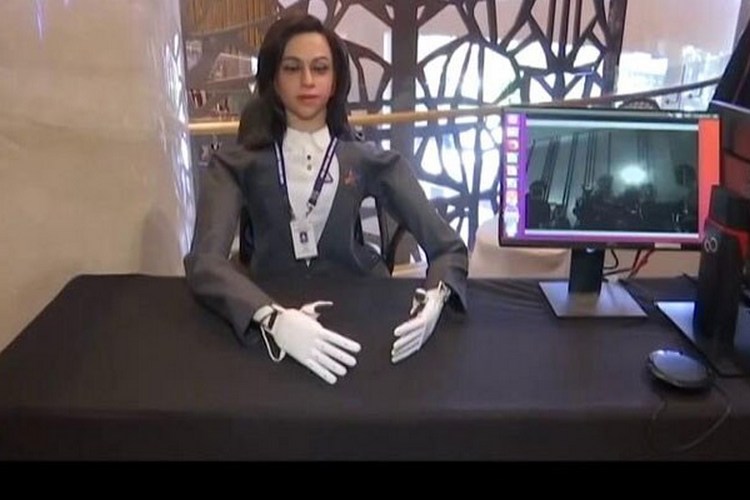 The Robo can bend sidewards and forwards and is in direct contact with ISRO's command center. Vyommitra will be sent to space twice for the trial mission, first in December 2020 and the next in June 2021.
It will be simulating exactly the human functions there (in space). It will check whether the system is right. This will be very useful to simulate, as if a human is flying.

ISRO Chairman K. Sivan
Soon, after the launch, there comes out an unofficial Instagram handle @vyommitra which is gaining followers way too fast, till now the handle grabs 7K followers.