We're all aware of Glassdoor, a well-known job search engine. Glassdoor is famous for providing jobs to a lot and lots of people around the globe. According to Glassdoor's economic research, The Best jobs in 2020 are dominated over tech jobs.
It's a new decade, and many workers are seeking new opportunities. In January, there are 22% more job applications started on Glassdoor than in a typical month," Amanda Stansell, Glassdoor Senior Economic Research Analyst said to the Forbes
Here is the list of top 5 Tech Jobs as per Glassdoor research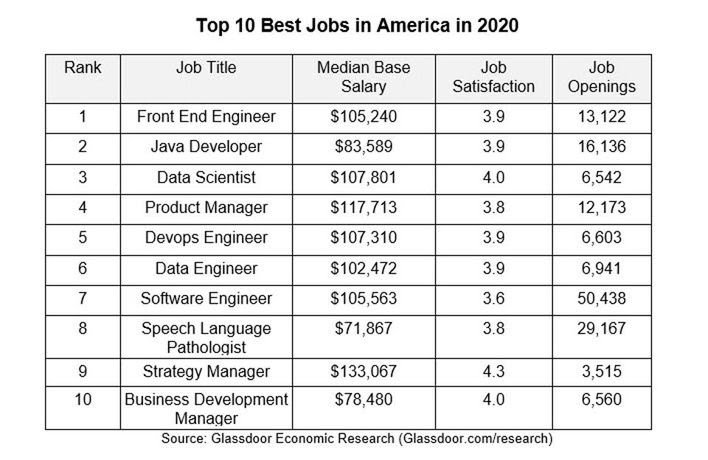 Front End Engineer: It is the most widely searched tech job over Glass doors. With a total job satisfaction of 3.9/5 which is a good shot. There are about 13.1k job openings for the same. Click Here to go for it
Java Developers: If You're good at Java you should definitely go for it. With a Job satisfaction of 3.9, it is worth working. Here's the link
Data Scientists: With A Job satisfaction of ⅘, it has about 6.5k job openings on glassdoor. Go have a look here
Data Engineer: It is having a job satisfaction rating of 3.9/5 there are about 7k openings for the same on Glassdoor. Click here to see openings
Software Engineer: Quiet a famous job isn't? It has a job satisfaction rating of 3.6/5. It has about 50k openings on Glassdoor. Click here to have a look.
What do you think? Which job suits you the most? Tell us